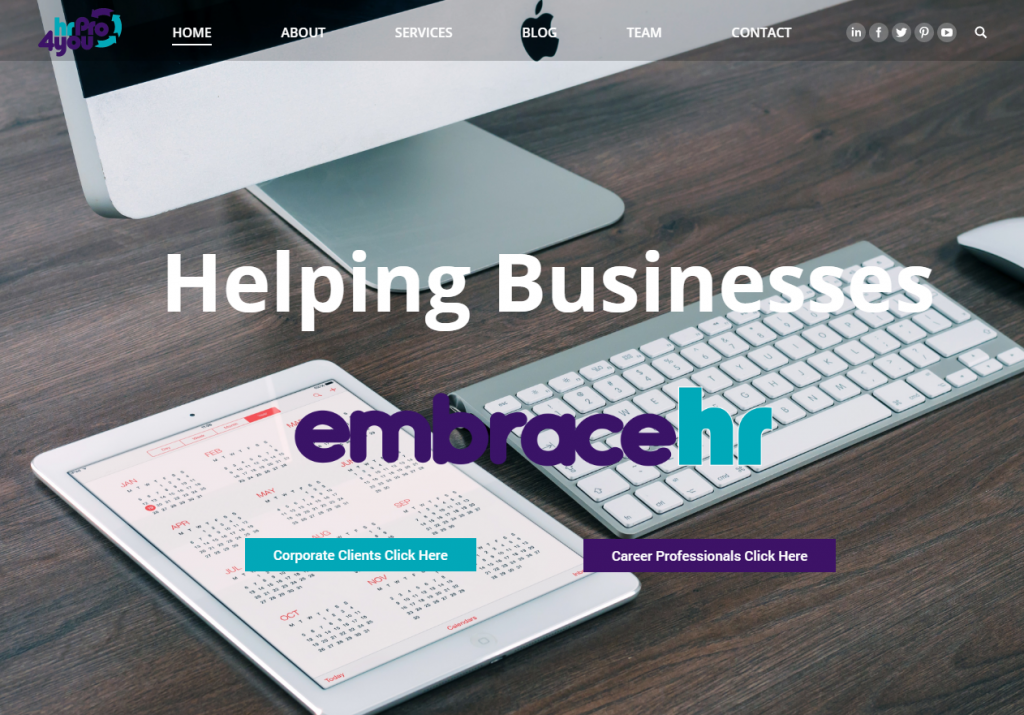 Over the last several months, I've been working hard on some new and exciting developments to share with Career Professionals and Corporate Clients.  And TODAY I've got such exciting news to share.  HRPro4You, LLC has a new website!
As a business owner, you'll learn all about how to #EmbraceHR – and what it means to be HR compliant while also understanding the importance of building an effective and scalable HR infrastructure for the business you've worked so hard to build.  And even MORE exciting, once you connect with me through the new site, you'll be able to access valuable informational handouts on compliance, and other relevant HR topics that affect you and your business – delivered right to your inbox. That's a lot of great stuff, right?
There's more!  If you are a federal government contractor, you know that compliance is a major part of your everyday business dealings, with HR being one of the most critical.  Understanding (and then, of course, implementing) OFCCP standards that you may be required to follow can be overwhelming, but they don't have to be.  By engaging HRPro4you, LLC, you will not only receive top notch advice, but you can rest assured that your HR compliance is in order, so you can focus on growing your business.
But that's not all…HRPro4You, LLC also has a new blog which can be accessed right on the site.  Relevant topics and what's trending in the HR world are just a quick click away – right at your fingertips.  Talk about convenient! And if that wasn't enough (I know…hold onto your hat…) for a limited time, I'm giving a special offer to businesses who realize that their HR infrastructure is not quite where it needs to be and need to have an HR expert help guide them towards HR infrastructure success.
WHEW….that's a lot – but I'm thrilled to be sharing this, and other valuable information with you.  Be sure to visit the website and connect with me on social media.  Isn't it great to have an HR expert in your corner? (Psst….don't forget to take advantage of my limited time special offer!)
All The Best,
Stefanie
HR Strategist
#EmbraceHR